Packed full of antioxidants, water soluble vitamins, fat soluble vitamins, protein, fiber, and extra goodness.
When it comes to eating healthy, I am always trying to find ways of packing in nutrition in a convenient and delicious way. This is where smoothies come in handy. It is also why I am a huge proponent for organic juicing as well. When it comes to smoothies, I was having a hard time coming up with a recipe that was delicious and healthy enough to eat every day. However, that didn't stop me from trying new recipes regularly. Finally this last summer I came up with one that has been a lifesaver for me. Not only do I personally love the taste of it, but I am noticing a lot of improvements in my health ever since incorporating it into my morning routine. It is one of the few foods that doesn't result in abdominal bloating for me, and if you knew how often I suffer from bloating, you would know this is a miracle. On top of that, I feel satisfied and nourished without feeling heavy, and I don't have any cravings for the rest of the day. This has resulted in a decrease in my caloric intake, more energy, and slow but natural weight loss. In this article I will share my recipe with you and all of the exact products I am currently using.
What's in it?
Organic Berries: I love strawberries, blueberries, and raspberries, so this is the combination I use. Berries are an amazing addition, because they are loaded with vitamins and minerals. They are also a really good source of antioxidants, which protect your cells from free radical damage. In addition to this, they are low on the glycemic index, which means they don't contain as much glucose (sugar) as other fruits. Therefore, you won't experience that quick sugar high followed by a crash.
Tip: Use frozen berries rather than fresh if you want your smoothie to be thick and cold. I also started buying fresh organic berries from the farmer's market and freezing them myself. They truly taste so much better than the store bought frozen berries. I also add about half of a frozen banana too, because it really adds a level of sweetness and creaminess that you can't get from anything else.
Organic Raw Kefir: If you have spent any time reading through my various blogs, you have probably discovered that I am only a proponent of organic raw dairy products. This has been a huge challenge for me, because I LOVE dairy. However, commercial dairy is produced in a manner that results in more harm them good when consumed, so I try to avoid it as much as possible. Kefir is an excellent addition to a smoothie, because it is loaded with beneficial probiotics. Since the one I use is raw, it also contains many B vitamins, fat soluble vitamins, short chain fatty acids, Omega 3's, and healthy enzymes. Most of these constituents have been removed from commercial products due to poor agriculture practices and pasteurization. So raw is definitely the way to go. I try to source my raw dairy from local farms, but when that isn't available I will use Organic Pastures.
Tip: If you are strictly dairy free you can use coconut yogurt instead. I really like the CocoYo brand because it doesn't have unnecessary ingredients, and is also sugar free. I think the taste is rather pleasant too.
Organic Chia Seeds: These small seeds are loaded with fiber, protein, and Omega 3's. They don't have a lot of flavor to them, so they blend well with most recipes. They are also very affordable, so it's a cheap option for packing some excellent nutrition into your smoothie. The brand that I am currently using is Nutiva.
Tip: Chia seeds are most bioavailable if they have been given the chance to "fluff". Put 2 tablespoons into a small jar and add about ½ a cup of quality water to it. Shake it really well for about 30 sec and then store in the fridge. By the next morning the ½ cup of water will be filled with a gel like consistency. This will be enough for 2 smoothies.
Organic Hemp Hearts: Hemp hearts are the seed of the hemp plant, Cannabis sativa. They have a very mild nutty flavor to them, and make a wonderful addition to smoothies and many other recipes. They are a rich source of Omega 6 and Omega 3. They also contain protein, minerals, and vitamin E. I am also using the Nutiva brand of these as well.
Organic Moringa Powder: Moringa is dried, powdered, leaves from the Moringa tree. It is a rich source of vitamins, minerals, and amino acids. It has significant amounts of vitamins A, C, E, potassium, calcium, and protein. It's pretty much a green superfood with a fairly mild flavor. Adding it to your smoothie is like adding a handful of green leafy vegetables. I am currently using Zen Principle moringa powder.
Organic Bee Pollen: Bee pollen is little balls of pollen made by young bees when they land on flowers. It is a mixture of saliva, pollen, nectar, and honey. It has a sweet, floral taste to it that is liked by some and disliked by others. I don't really like bee pollen by itself, but mixed into a smoothie it is really yummy. I use it, because it is another nutrient dense superfood. It is a complete protein, rich in B vitamins, fat soluble vitamins, many minerals, antioxidants, and essential fatty acids. I am currently using Greenbow bee pollen.
Collagen Peptides: Collagen is important for many different parts of the body. It's found in muscles, bones, tendons, skin, and blood vessels. As we age, the amount of collagen in the body decreases. Therefore, consuming high quality collagen can help your skin look young, keep your hair and nails strong, reduce joint degeneration, improve gut health, support metabolism and energy, and protect your heart. The collagen powder I currently using is Orgain.
Additional Ingredients: The following ingredients I add in when I have them available. They provide extra beneficial fats, fiber, vitamins, minerals, and flavor.
Recipe (preferably organic):
1 cup of mixed frozen berries (strawberries, blueberries, raspberries)

½ frozen banana

1 Tbs pre-soaked chia seeds (see above)

1 Tbs hemp hearts

1 tsp bee pollen

1 tsp moringa powder

1-2 Tbs collagen peptides

1 Tbs Nuttzo butter

⅓ cup raw kefir or 1 serving of CocoYo

1 handful of raw baby kale or alfalfa sprouts

Enough clean water to cover the ingredients by ¾, or however much you want for your desired thickness.
Supplement Discount
Click the banner below to receive 20% OFF practitioner recommended supplements FOR LIFE. You also get FREE SHIPPING on orders over $50. Take the guesswork out of finding quality supplements. With Fullscript, you can feel confident that you are getting what you pay for.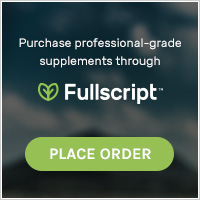 Affiliate Disclosure: In the spirit of full disclosure, there are affiliate links in this article, which means that I may get a commission if you decide to purchase any such product. I only recommend products and services that I use and love myself.